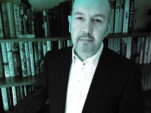 Roger Marriott was born on a council estate in West London, growing up with the sounds of the seventies all around him, something that he couldn't quite connect with at the time. As a teenager in the eighties he discovered the lexicon of sixties soul music and, in his own words, was saved.
Whilst working as a graphic designer he wrote and published his first novel, The Dark Skylight in 1995, an atmospheric gothic tale of living demons and crumbling London housing blocks.
Throughout a successful 25 year career in marketing he continued to write whenever the time allowed, but it wasn't until he read a quote from John Steinbeck that he knew the direction his writing would take; "For the first time I am working on a book that is not limited and that will take every bit of experience and thought and feeling that I have".
Roger took up the pen again to write East of Acton, an intense, fascinating story of a young man growing up in West London living with his alcoholic mother and her abusive boyfriend. The novel is set against a backdrop of Mod culture, working class struggle and casual violence.
Outside of writing Roger is a London Taxi driver where he feels at liberty to bore many people on many subjects. He also still owns an ancient, shabby Lambretta that he maintains is in better condition than himself.