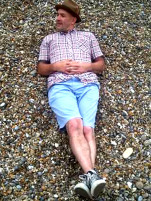 Steve Piper was born in Epping 1969 by the time of his third birthday his dad had left leaving Steve, his mother Dot and sister to get on with it.
His first musical memories are of his nan and grandad singing 'A Scottish Soldier' and 'Amazing Grace' around their home and his mum's meagre record collection; a Dr Hook 7" and Prince Busters 'Al Capone' that he played to death, before he heard the early Nutty sound made by the boys from Camden Town, Madness at 10 years old. This moment triggered a direction that led Steve into the fashions of Rudeboy, Modernist and Skinhead. Associations that included musical allegiances such as Two Tone, original rhythm & blues, early soul, reggae, ska, punk and rock.
Always seeking adventure, stimulation and friendship throughout his childhood Steve was a 'joiner' always drawn to others company and gatherings; the more interesting, challenging and 'at odds' the company the better. His wife insists that if Steve was a teenager in the present he would be diagnosed with attention deficit and hyper activity disorder!
Dot met Al, they got married and the 'real estate' education began when the family moved on to a large council development in East London where Steve subliminally absorbed the sounds and influence of a multi-cultural and sometimes troubled community. Trouble was never far away and Steve and his cohorts were an incident, a minute, an action away from serious police involvement many times. Steve was lucky.
Steve is married with two grown up children. One is in a successful punk band the other a budding journalist and activist.
He now lives in Chelmsford, Essex where he works as a youth offending officer (I kid you not!). He spends his time lusting after old Ford classics, feeding his curiosity for rhythm & blues and the sounds of Jamaica, reading and writing. He is a boxing coach at a local club and can surf. He loves good shoes and writes for therapy.
His favourite book of all-time is Charles Dickens 'A Christmas Carol' which he and his daughter read together every year ensuring that they finish on Christmas Eve.
Steve's Special's Top 5.
• Do Nothing (All-time favourite)
• Concrete Jungle (Dance Craze version)
• Ghost Town (12" version with Rico's amazing trombone)
• Stereotypes (LP version with paranoid toasting by Neville)
• Rat race (Great guitar from Roddy)